There are so many different styles of staircases available it may seem overwhelming to know which type to choose. But if you know you want to go for something different and you don't currently have a wooden staircase, this could be a very good choice to make. Wooden staircases have the following benefits:
Change the Feel of the Home With Wooden Stairs
The thing is, if you have decided you want to make a fresh feature out of your staircase and introduce a new element to your home, you'll want to go for something that properly changes the feel of the household. A wooden staircase can do this, a lovely design, created with handcrafted wood brings in a natural, warm feel that is hard to capture with any other staircase style. Essentially, a wooden staircase can bring a feel of the outside world inside, and to many people that is an attractive idea. They also help to provide a home with a traditional feel.
Durability
You will want your new staircase to last a long time and this will be the case with a wooden staircase which can be made with tough materials such as timber, a material that suits heavy-duty structures very well. If someone wants to paint, varnish or wax their wooden staircase it will be able to withstand it no problem.
Creates a New Focal Point
Everyone loves drawing a visitor to a focal point when they come and visit, and a lovely wooden staircase is a great way to do this. It will almost certainly be the first thing people notice when they set foot into your home and it can become a nice talking point and experience for those using it. Although they have this huge appeal, they don't feel ''too much'' so a good balance is struck up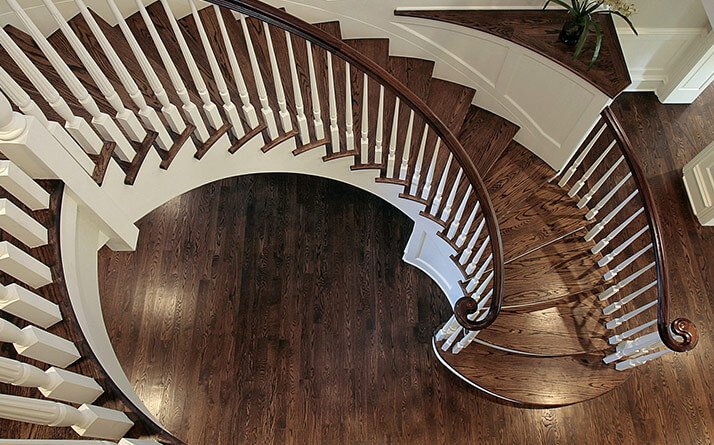 Less Cleaning
Wood is so much easier to clean and maintain than a carpeted staircase. You'll find it so much easier to remove footprints and spillages. Most of what needs to be cleaned up on a wooden staircase can be done so with a mop or brush.
Adds Value to Your Home
Wooden staircases are desirable elements of a house design. So the good thing is if your building contains one it is likely to put up the value of your house. They have a timeless appeal so it is a safe bet that if the time comes and you want to sell your house, the value will be added thanks to the wooden staircase addition. Sure you have to pay out for the staircase initially, but in the long run, you should make your money back easily.
If you have decided that you do want to have a wooden staircase in your home, then you may like to consider the available and bespoke staircase options. No doubt you have in mind a particular look to your wooden staircase, and you have a required shape and size, so it will be great to have this made up especially to your requirements. Visit a range of companies to see who offers a service that best suits you and you can be enjoying a new bespoke wooden staircase very soon!
If you are looking for a bespoke bi-fold door, our team at CAD Joinery are here to help. Simply call us today on 01865 303 077 or visit our contact page for more details.