When we think about designing our dream bedrooms, choosing a bespoke wardrobe is a great way to create precisely what you want in your home. Whether you have a classic, traditional or contemporary style, we have something for you. You can create that room you have always dreamt of, providing superior style, quality and perfection in every detail.
If you go online, you can find bespoke wardrobe manufacturers with years of experience. They will be able to advise you and offer solutions to create a bedroom that exceeds all your expectations. These people know how to satisfy their clients and will be responsible for designing a wardrobe that reflects your personality. With thousands of designs and creations to choose from, you can create yourself a unique style with the help of the experts.
Wardrobe Ideas
The bedroom is a private room in the house that should provide all the amenities you need. Therefore, creating an atmosphere of peace and serenity is one of the most important factors when designing a bedroom.
There are so many new and striking ideas on the scene that provide excellent storage, design, and a wide variety of materials that can be used to design your bespoke wardrobe. So you are bound to find the perfect style that reflects your own personality.
From a black bespoke wardrobe with contemporary chrome handles that gives a dramatic and luxurious touch, to the bedroom with a white wardrobe that makes the room feel cool and fresh, there is a design that fits all tastes.
There are also some beautiful designs for the family to choose from, including a wide range of bespoke wardrobe doors and materials such as maple, to the dark wood finish that adds a touch of luxury to any room. With a wide range of bespoke wardrobes to adapt to the decor, you can create a comfortable environment for work or sleep.
Benefits of Fitted Wardrobes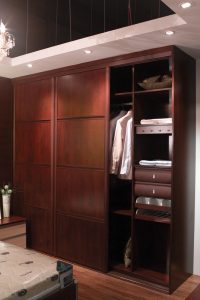 All bespoke wardrobes are manufactured according to the highest standards, with craftsmen using only the best materials for each piece they make. This attention to detail makes the bedroom something to be appreciated by all.
The wardrobe is the height of luxury when it comes to the room. It can be created as a single project or incorporated into a detailed bedroom design which can provide the perfect solution for all your storage needs. It will be handmade according to your specifications, and every little detail will be integrated to ensure that all your needs are met. If you do not have space for a closet, you can design a wardrobe that perfectly suits the style of your room.
Thank you for reading this blog post, hopefully, you now have some ideas for your wardrobe and can see some of the benefits that a bespoke wardrobe can bring to your home. If you have any enquiries or wish to contact us, visit our contact page or call us on 01865 303 077.