You've got your eye on that luxury wooden kitchen and you've got savings set aside, but you don't know where to start with planning your new kitchen. You hate your current kitchen and know that you need a different layout, but what layout? It is important to plan a kitchen carefully you don't want to spend thousands of pounds on something that looks great but just isn't functional and practical for your needs.
Here at CAD Joinery, we will come round to your home, draw a floor plan and advise you on the best layout for both the room size, shape and your needs. If you're going to have a handmade wooden kitchen, we will most definitely be able to accommodate your dreams and ideas. Even customising cabinets for oddly shaped alcoves and wonky walls. It's important to think about how you use your kitchen and what function it needs to fulfil. Here are some considerations to help you with your dream kitchen planning.
Style
When choosing a style of kitchen, think about your house. A modern kitchen with brightly coloured cabinets and lots of stainless steel may not suit a thatched cottage or period home. Think about your style too. There are so many styles of units, appliances, worktops, sinks and handles to choose from, that you are bound to find the perfect match for you and your home.
Entertaining
How is your kitchen used? Just for you and your family or do you like to entertain frequently. Consider your lifestyle – If you hold frequent dinner parties, you are sure to benefit from lots of worktop space, a good size oven and hob, a dishwasher, a decent sized fridge/freezer or a large fridge with a freezer in a utility room or garage. Some people even have a second dishwasher! A central island for a bar area or seating area is a great addition to any home that likes to party, which can be used as a breakfast bar when you're not throwing the party of the year.
Storage
How much storage you need will depend on your individual habits. If you love cooking and baking, you will probably have an extensive collection of bakeware, cookware, utensils and gadgets, all requiring storage space. There are many storage solutions pull out larders, corner carousels, deep drawers for pans, crockery display units, ceiling mounted pan hanger/herb drier, racks on the inside of cupboard doors, etc. Think about how storage solutions can be incorporated into your kitchen design to best suit you and your needs.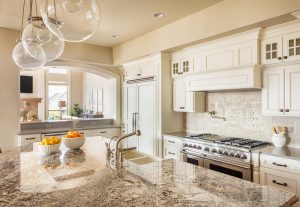 Cooking habits
If you love cooking, you will want a kitchen which allows you to pursue this hobby. You will want a good-sized sink, plenty of worktop space for preparation, a large hob and oven and you may want a large American style fridge to house all your fresh ingredients and a freezer if you cook in large batches. You may also want to think about incorporating items like spice racks into your kitchen. Create a place to build and thrive your hobbies in, somewhere you always want to be.
Shopping
Are you the kind of person who does a big shop once or twice a month? Or do you shop a few times a week? Thinking about your shopping habits will enable you to plan the right kind of kitchen. If you do big shops, you will require a freezer, and a large fridge, and lots of storage space for cans and jars. If you do small, frequent shops, then you may not require as much storage space.
Thinking about all of these considerations will help you to plan a kitchen that will not only look great but will also be functional and practical for your lifestyle. If you have any questions and queries please don't hesitate to get in touch on 01865 303 077 or visit our contact page, where one of our friendly team members will get back to you as soon as possible.