Do You Need More Space?
If your house is anything like ours, then it's crammed full of stuff. Unless you're a fan of the minimalist look, every room in the house not only has the essentials but more than enough additional 'things'. We collect all sorts of ornaments, trinkets and paraphernalia as we travel through life that, sooner or later, we start to run out of the room. When this occurs, it's time to optimise the space we do have.
Save The Costly Move
Other than taking the extreme step of moving to a larger house, utilising the loft is a great way to add much-needed space. Whether you plan to convert the whole area into a livable room or just want to use it for storage, you're going to need a way of getting up there (and probably down too).
Here we're not going to be looking at converting the space itself, but how to install a staircase to your loft. Naturally, there are so many different designs of houses that we can't give you specifics, but if you need to add a staircase to a loft room, whether it's straight up and down or a spiral, then hopefully this will give you all the information you need. Also, this is not just adding a ladder so you can get into the loft, but to install a proper staircase.
You will obviously need to comply with Building Regulations so it may be worth speaking to your local authority (and even an architect) before work starts.
Design
First thing you need to understand is what you expect the stairs to look like. It sounds obvious but there will be considerations when it comes to building. There are rules and regulations that you will need to adhere to, but you also need to think about things like electrics (e.g. lights on the steps), soundproofing and plumbing and how they may impact into the design of the staircase.
You may also need to replace some joists to compensate for the added weight that a loft staircase will bring. Other things to consider are the height of the steps, the angle and director of turns, bannisters or handrails and how they will look from underneath. 
Location, Location, Location.
Secondly, before any building work occurs, you need to find the ideal location for the new staircase. Again, the layout of the floor below is going to play its part, but the best place for a staircase is in line with the roof ridge. This allows you to make the best use of the available height above.
Get Stripping
No, not that kind of stripping! The next step is to strip back any existing carpet or laminate flooring on the stairs to make them as clean as possible. This will make it easier to connect when you start.
You've Been Framed
The steps of the staircase need to sit within a frame. Whether you're building yourself or getting a loft specialist to do it, creating a solid enclosure is vital. It will need to be tied firmly into the structure to ensure it's robust.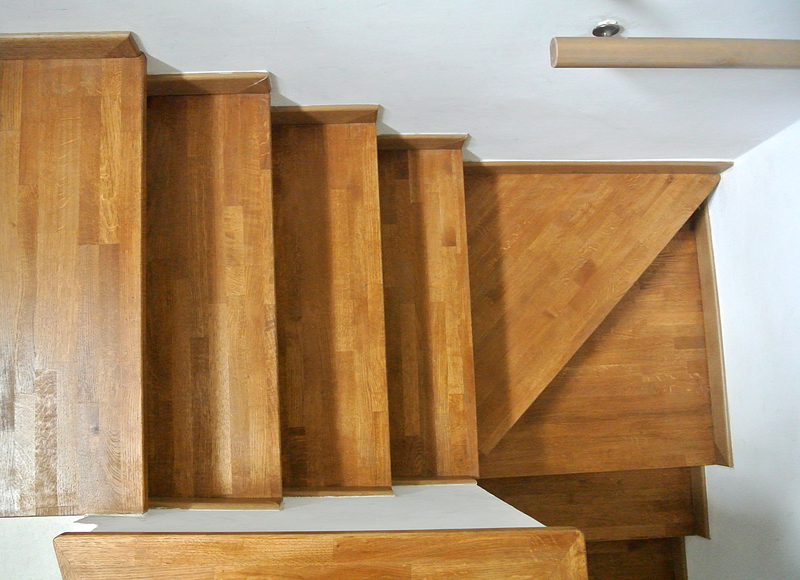 In-Situ
The vast majority of staircases are fitted on site to make it easier. If you have small doors or tight corners, then trying to navigate a fully-constructed staircase will create more problems. This will finally see your new loft staircase really come together in one go. Once the stairs are secured to the frame (which will, in turn, have been secured to the building frame) you will finally see the project reach its conclusion.
Finishing Touches
Once the staircase has been fitted, then it's time to add the finishing touches. Plastering the walls to hide the fixings, painting (or varnishing) the stairs and adding balustrades and handrails will complete the look and give you a fully working and code-compliant staircase to the stars (or loft).
Once it's complete, you may need to speak to your local authority so they can sign-off on the project and to ensure that it meets Building Regulations. You now have access to a whole new space in which to store even more of your stuff. Once that's full, it might be time to think about decluttering.
We hope that our blog has been helpful, and you understand the reasons why you should invest in installing a staircase to your loft. If you have any questions, please don't hesitate to get in touch on 01865 303 077 or alternatively you can head over to our contact page and fill in our online enquiry form, one of our friendly team will get back to you as soon as possible.