Cantilever staircases, often known as floating staircases, are an excellent way to make your home look a little more modern. The stairs are attached into your wall using steel supports to make them safe and give them their signature 'floating' appearance without the need for a bannister.
Using wooden cantilever staircases can give your home an industrial feel or add to the natural look depending on the type of wood you use. They also let in a lot more light than traditional staircases, making your room look larger.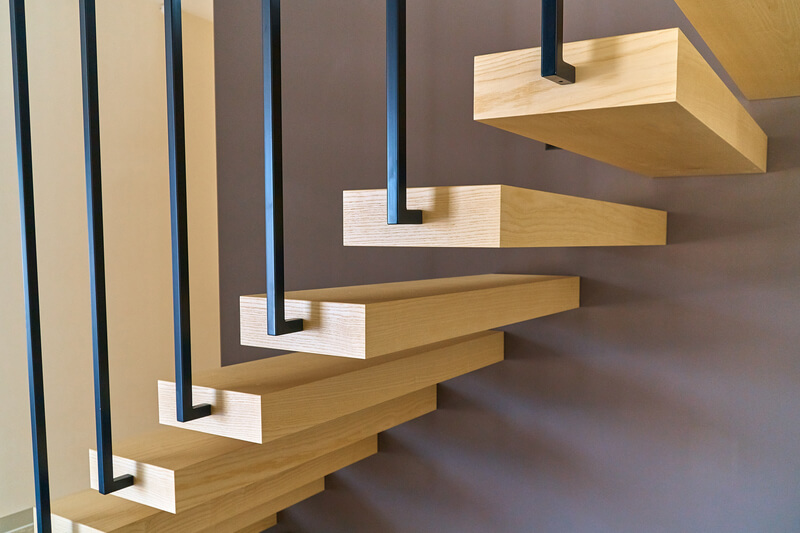 How To Design A Cantilever Staircase
Depending on the style of your home, you'll need to consider which type of cantilever staircase will suit you best.
● Hidden Cantilever Stair Stringer and Structure
These stairs have a structure made up of 3 steel poles hidden within the wall. There will then be an 8-inch-wide steel stringer attached diagonally between the poles which will support each step as they climb.
This style of staircase is the ideal artsy feature in your home, creating enough stability for the steel stairs to be encased in a wooden frame for an artsy look without the need for a supporting bannister on the other side.
However, you will need to ensure that you fully understand the structure of the building and which walls are supporting walls. This cantilevered staircase may need further structural changes to the building to make it safe.
● Exposed Stair Stringer with Cantilevered Landing
This structure works in the same way as the hidden cantilever, with steel supports and stringer and steel steps covered with a wooden case. However, the steel structure is exposed. This means there's less need for structural changes to the building, as the steel posts and stringer can be added against the wall in full view.
An additional steel stringer may be added underneath the staircase to provide further support for heavier or wider stairs.
It creates a great industrial feel and is a great option for offices or other workspaces if you're wanting to add a modern touch.
● Fully Exposed Exterior Cantilever Staircase
These are normally used outside the home and require an extra steel support. The stairs are often curved or have a platform midway up to support a change in direction. They need a steel platform and pillars underneath the floor to support a thinner tread on the stairs and have a support rail to assist with safety and to provide further structural support.
Why Choose a Wooden Cantilever Staircase?
Wooden cantilever staircases are a great choice for any space as they provide a range of benefits.
● Design flare
Cantilever stairs add a high-end appearance to your home or workspace. They are flexible and can provide an industrial feel or a natural, eco theme to your space depending on the type of wood you use and the surrounding decor.
You have the flexibility to use light or dark woods to match with any design to make your stairs a unique and eye-catching feature.
● Natural light
Because the steps on cantilever wooden staircases don't need vertical supports, the steps let a lot more light into a room, making it feel much bigger.
● Visibility
From a safety perspective, cantilever staircases work really well in the workplace. They give you greater visibility of the whole floor, which can be beneficial for spotting accidents or hazards in a busy warehouse or practical working environment.
● Less structural changes
Exposed cantilever stairs require less structural changes than staircases that are fully incorporated into the building. This is because all the structure to keep the stairs steady and safe can be built around the existing walls. Meaning that there's less construction work required and no need to rebuild walls.
If you have any questions, or would like to discuss the options for a cantilever staircase in your home or workplace, please call us or get in touch by filling in the form on our contact page.