Wooden staircases are an amazing asset to your home. They look great, they're hardwearing and your wood selection has the potential to give your home a whole new look. The problem is most people wouldn't know how to fit a new staircase themselves, so that's where a wooden staircase manufacturer would come in.
Considerations To Make when Wooden Staircase Manufacturer
When considering a new wooden staircase in Witney, it's essential that you hire the right contractor that you're confident will provide the perfect finished product. Mistakes are difficult to correct later, and you need to think about the safety of the staircase as well as how good it looks.
When selecting a wooden staircase manufacturer and contractor to fit it, there are a few things that you should consider:
Check Their Qualifications
No wooden staircase manufacturer will ask you to do the measuring yourself. This is because staircases need to meet with building and health and safety regulations and it's dangerous to ask someone who is not qualified, to do this.
A qualified expert will be able to show you their credentials, explain the regulations and what they mean and will provide a site survey using precision equipment. If you find a company that asks you to measure up yourself, there's definitely a liability issue.
Understand Your Budget
Wooden staircases are expensive, there's no getting away from it. However, you should always set yourself a realistic budget to get the work done professionally. Think about your budget and discuss it with your chosen manufacturer before going ahead.
A good company will help you to adapt elements of the staircase in order to meet your budget and ensure you're completely happy too.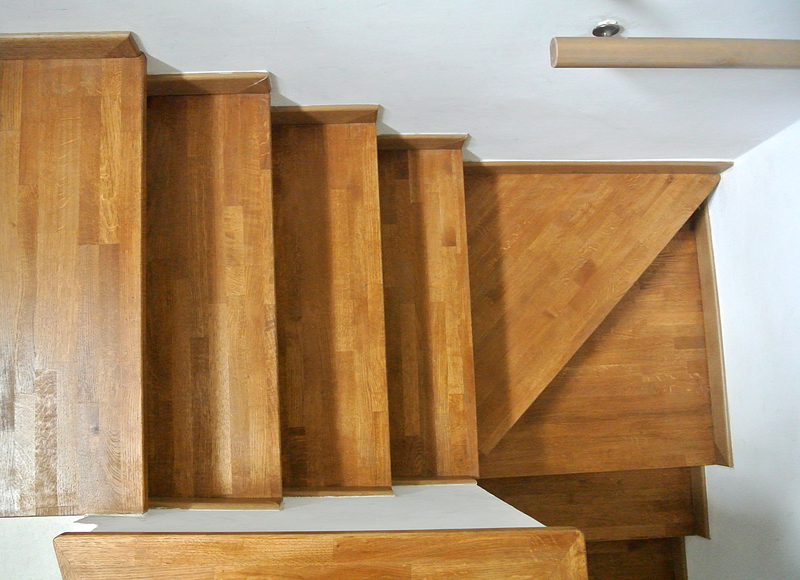 Ask To See Examples Of Their Work Or Look Online
Try not to find a brand-new company. More experienced companies may not always look as flashy on the outside, but they have the experience and know-how to put issues right if something goes wrong.
Take a look at previous examples of their work before you go ahead. It's always best to see what you're getting before it's too late.
Read Online Reviews
A good wooden staircase manufacturer will have online reviews from previous customers. Have a read through the reviews and gauge the general feel of the company.
It's normal for companies to have a couple of 4-star reviews in with their 5s. Be on the look out for fake reviews. If a company has glowing 5-star reviews which all seem a little similar, this is a red flag.
Don't Just Look At The Cost
It's not just about your budget, it's about getting a quality product afterwards. It's always better to spend a little extra initially, rather than trying to fix problems later because you decided to build your staircase on a budget.
You should also look at additional service extras that the company is willing to offer. If a company offers to measure up, gives you mock up designs and gives you a few little extras in with the cost, then they're confident that they will do a good job, meaning they aren't concerned with penny pinching.
Finally, your staircase should last a lifetime, so it's a great idea to find a package that offers protection and priming in with the cost.
If you're excited to spruce up your staircase, contact CAD Joinery today for friendly, professional advice or to arrange a no obligation survey.