Spiral staircases are a stunning home design feature and are found in many buildings and structures today. However, not very many people know how this feature came to be and for what reasons it was first built. It's also easy to assume that the spirals were invented for easy access to multi-story buildings or tall structures. This isn't the very first reason the invention of these staircases came about. The first time these structures came into existence was in the middle of the medieval ages. According to many historical sources, these structures were first invented for security during wars. There are also other few reasons put across by historians concerning the purposes of the staircases at the time. 
What is a spiral staircase?
Spiral staircases are a set containing steps that are continually rising around an axis at the centre. So, when descending or ascending, every few steps are taken result in a 360-degree turn. We have different staircase types available today. There are different ways to categorise them. For instance, the materials used in their design can be used to categorise them. Types of spirals found in the structure can also be used in which case we have the double helix, double spiral, spiral and helical. The other classification feature is the number of turns one completes along the way. In this category, we can have full-turn, three-quarter-turn, half-turn and quarter turn. These are the most common categories in which the spiral springs can be put.
The reasons why the spiral staircase was invented
As we've mentioned above, the main reason behind the invention of the spiral staircase isn't as obvious as most people would assume. Here are the reasons why they were first invented during the middle ages:
As mechanisms of defence
This is the very first reason spiral staircases were invented. They acted as a mechanism of defence in castles for royal families. The reasoning behind this application is that if right-handed swordsmen attacked the royal premises, they would be disadvantaged by the stairway that winds in a clockwise manner. They'd be forced to use their left hand which is weaker to carry their swords. Also, soldiers would be forced to go into the towers one-by-one and not en masse. The number of enemy soldiers reaching the towers would be lower and they could fight back more effectively. Some also made the steps uneven to cause the assaulting soldiers to stumble and even fall. This way the occupants of the castle would get time to retaliate or even run for their safety.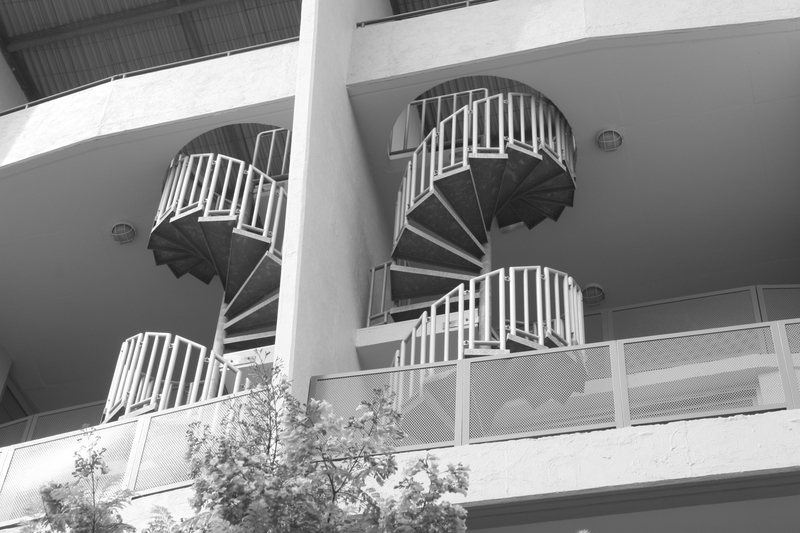 As symbols of power and status
After spiral staircases were invented for safety in royal castles, the wealthy also began to seek them. They wanted them for showing how powerful and wealthy they were. It was fashionable to have these staircases in palaces.
The use of the spiral staircase in modern times
These staircases are no longer important as a defence feature. They're now valued highly for aesthetic purposes and for saving space. These staircases can be customised, making them suitable for fitting in various areas in which they're needed.
Materials used for making spiral staircases
In the earlier days, marble and stone were the materials that were commonly used for the construction of these staircases. This made them stable, hardwearing and durable. Today, they're made from marble, stone, diamond plate, glass, steel and even wood.
Here at CAD Joinery we design, build and decorate a wide variety of different staircases, if you would like to talk to us about staircases then contact us.