When stairs have architectural value, they do not require decoration, but ordinary stairs can sometimes be too boring or outdated, which can lead to you customising them with a few unique ideas. Even with a few minor decorative fixtures, you can breath fresh air into the design of your staircase and home. Or for those who are looking to make larger changes to their home then we also provide ideas to stylishly alter your home with a brand new staircase. Here is our list of ideas that we believe will bring new life to your home.
Spiral stairs 
Spiral stairs or spiral staircases are an ideal alternative to houses with a small area. They have a design that provides movement and that never goes out of fashion, we can also find it in many different finishes and materials to perfectly match your home.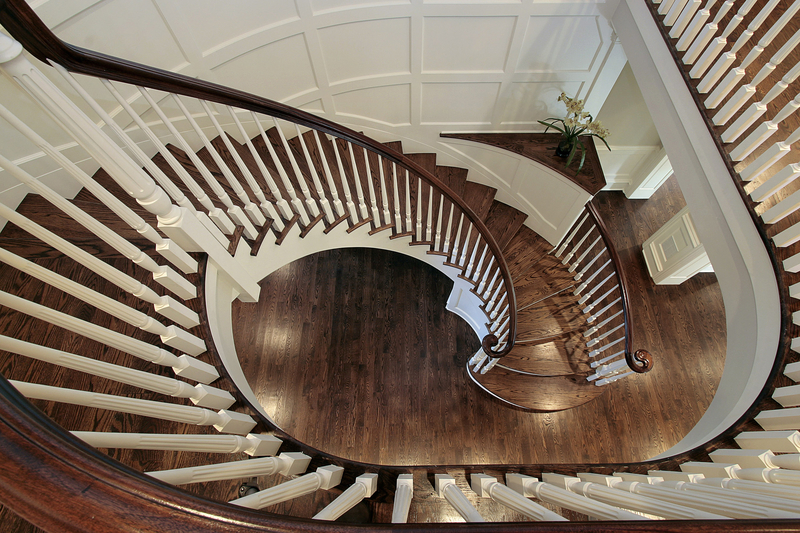 Floating stairs 
The most managed concept in recent times is the floating stairs. Of course, they are not really floating, but their design which eliminates two classic support beams, makes it seem so. The principle is to replace them with other elements that contain resistance to make the stairs work. In many cases, wooden steps are attached to two large glass walls. In another design, they are simply attached to the wall on one side, and in the air on the other, others are hung on the ceiling, and even more, they distribute the weight of people in their many unique forms to be able to stay upright. 
For those who love books, they love all the things that make them remember, great stories that they have read; romantic novels, adventures, and dramas all within the pages of their favourite stories. In interior decoration, you can also find interesting things to use to decorate your home. Luckily for those who love reading, books can also be used as a decoration! How is it possible to decorate the stairs with books? Turning them into a library full of their favourite authors. In this way, we use the free space on the front of the stairs and place the books there. 
Use the space under the stairs 
Typically, we leave the space beneath the stairs open. This is because the open space can be awkward to fill. However, a common trend to fill this space is to turn it into another storage option within your home. Not only is this practical, but also does not affect the aesthetic of the surrounding rooms. With this storage space, you can include personalised and decorated features such as borders and doors. Other designs are still available, such as choosing different materials, colours and shapes of the storage area underneath the stairs. All of these options give you the ability to truly create a unique feature for your home.
We hope that you liked the information presented in this post. If you wish to talk about any of our services then feel free to contact us using our online form.