A sash window is a window that doesn't open on a hinge. A traditional example is known as a "sliding sash" window and would usually be made up of two sashes that slide up and down, or side to side. This would be with one sash in front and one behind, in vertical grooves and counterbalanced by lead weights on cords.
For operation, a sliding sash can be opened either at the top, the bottom, or both ends. Originally, they wouldn't have an outward swing but modern examples tend to tilt in and out to make cleaning easier.
Sash windows will have a glazed area that is made up of smaller panes held together by glazing bars. You can get an idea of the era the windows are from by the number of panes. If sash windows are being considered for a historic property, a choice will need to be made carefully to ensure you use a matching period as styles have changed a fair bit over the years.
Benefits of Sash Windows
Traditional Aesthetic
One reason why people opt for sash windows is due to their traditional charm. Sash windows are a common sight across English villages for instance, and many people enjoy the quaint appeal and call back to the traditional design that they evoke. Countless people enjoy how these window types are handcrafted in original timber and add extra elegance to a building.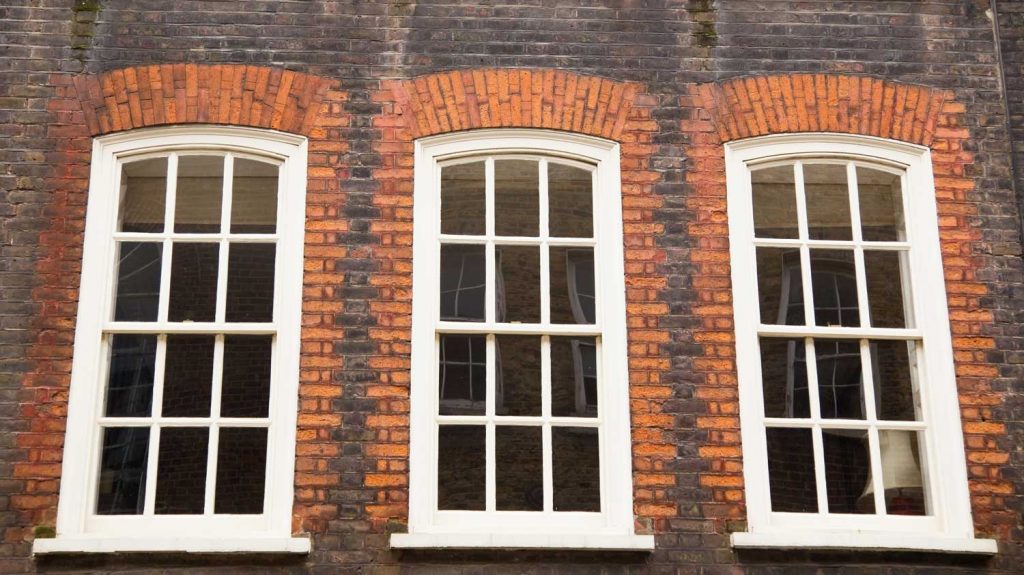 Improved Ventilation
If ventilation is a priority, sliding panes of sash windows are a great benefit. The reason for this is because two sliding sashes with an opening at the bottom and the top of the window will enable a cooling convection flow which will be perfect for summer. And because there are no hinges you won't have to worry about any gusts of winds causing the window to slam shut. Better ventilation not only improves the comfort you will feel in your home it will also help clear dust from the air.
Bespoke Joiners
You may wish to use bespoke joinery for your sash windows. This way you can experience a service that is tailored to your needs, with sash windows that fit your property perfectly, both in respect of sizing and from a stylistic perspective. Handcrafted sash windows are an excellent way to add a unique element to your home.
Single Hung vs Double Hung Sash Windows
If you have opted for sash windows you need to decide if you want single or double-hung. A single-hung sash window has only one operational sash as opposed to a double-hung option which has sashes that both tilt in for easy cleaning inside and out, they can also be replaced more easily if the glass was smashed.
Sash windows are a timeless addition that will suit certain buildings. Not only can they contribute greatly to the look of a home they also provide great practical benefits for the household they are installed in. If you would like to find out more about the sash windows we offer, please get in touch with our friendly team today on 01865 303 077 or head over to our contact page.